We specialize in birthday parties and other private events
trap't Escape Room Adventures is ideal for your birthday party, sweet sixteen, bar/bat mitzvah, quinceañera, graduation, etc.
Recommended minimum age for children's birthday parties is 12 years old.  At least o

ne paid adult must be present in each room containing children under 17 years of age.

Please book at least one FULL room for any birthday party to ensure you have a private experience to yourselves. If you don't book a full room, you might wind up with people you don't know in the room with you. If you have any questions, please call us.

We have 3 party rooms that can be utilized (separately or combined) before and/or after your Escape Room experience(s).

Our team can plan (or help you plan) your party. We can coordinate food and drinks (everything from pizza or sandwiches to a fully catered sit down meal) or you can bring your own.

We have two large kitchenettes each with plenty of prep/counter space, a full size refrigerator, sink, microwave, and oven.

Packages start at $340.00 plus tax. Includes Escape Room for 8 people ($400.00 plus tax for 10 people) and 1 hour in our medium conference room.

We can host up to 60 people for a 3 hour event and up to 90 people for a 4-5 hour event.

Add trap't T-Shirts or EXIT Escape Room home games as gifts for the party attendees. If you purchase in advance you will get 10% off all shirts and games.

Private parties can be scheduled outside of our normal business hours.
Please call us at (203) 569-0011 to book your event or for additional details.
Our Space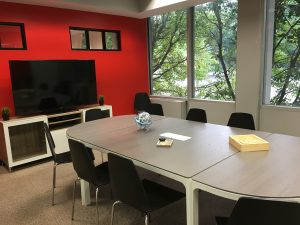 Medium Conference Room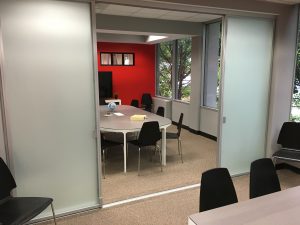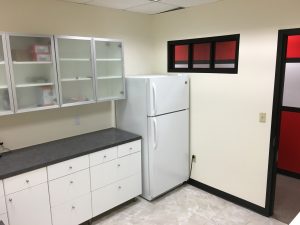 Larger Kitchenette