Dead Man on the Orient Express

A classic tale of murder on the Orient Express, reimagined. The culprit of a grisly crime is still on board your train. It's a race against time to piece the clues together before the train reaches its destination. The case is perplexing, and you must solve it quickly so the assailant does not escape. 

Difficulty Level: 4 of 5

Age: 12+

Number of Players: 1 to 4

Length of play: 60 to 120 minutes
The Sunken Treasure

Setting sail for dangerous waters, you embark on a treacherous quest for the legendary treasure of the Santa Maria. While investigating a mysterious shipwreck, something goes terribly wrong and you are trapped deep underwater!Can you solve the riddles of the wreck and recover the treasure before your time is up?

Difficulty Level: 2 of 5

Age: 10+

Number of Players: 1 to 4

Length of play: 60 to 120 minutes
The Sinister Mansion

You are invited to be a guest at a palatial mansion, but upon arrival, you find yourselves forced to take part in a macabre game. The clock is ticking, and there is not much time left to solve the puzzles. Can you escape the mansion before it's too late?

Difficulty Level: 3 of 5

Age: 12+

Number of players: 1 to 4

Length of play: 60 to 120 minutes
The Secret Lab

As volunteers for a medical research study, you report to a lab as instructed. But no one is there except for you! Vapor rises from a test tube and you start feeling dizzy. When you wake up again, the door is locked, and you discover a notebook and a strange disk. Can you solve the riddles left for you by a previous research volunteer and escape the lab?

Age: 12+

Number of players: 1 to 4

Length of play: 1 to 2 hours
The Polar Station

You belong to a large research organization, which is divided between several stations. You are researching climate change at the North Pole. Everything is strictly secret and you have no idea what the missions of the other teams are. You have not seen or heard anything for weeks. Then it dawns on you that only if you can figure out all of the codes to unlock the locks in time, can you escape. If not, this will be your bitter (cold) end.

Age: 12+

Number of players: 1 to 4

Length of play: 1 to 2 hours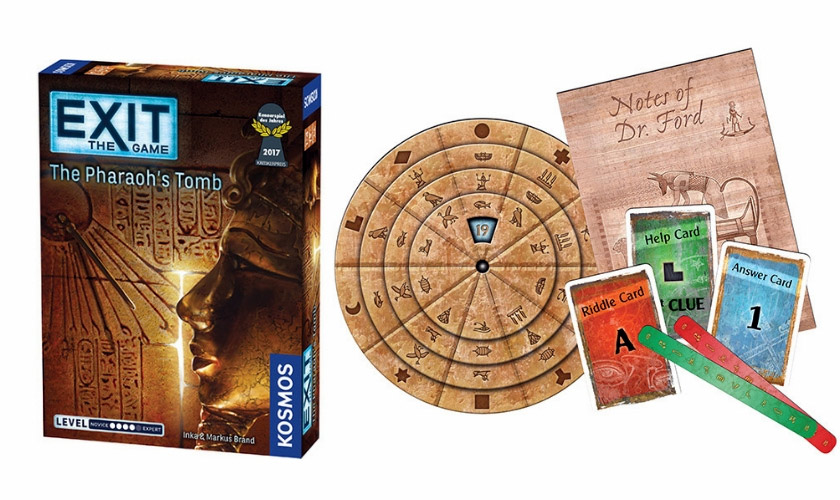 The Pharaoh's Tomb

The excursion to the Valley of the Kings is the highlight of your vacation to Egypt. As you crawl through the narrow passageways, you lose the rest of your tour group. You enter a mysterious burial chamber. A massive stone door closes behind you. On the floor lie a dusty notebook and an ancient disk. Can you solve the riddles left for you by an earlier pyramid explorer and escape the tomb?

Age: 12+

Number of players: 1 to 4

Length of play: 1 to 2 hours
The Mysterious Museum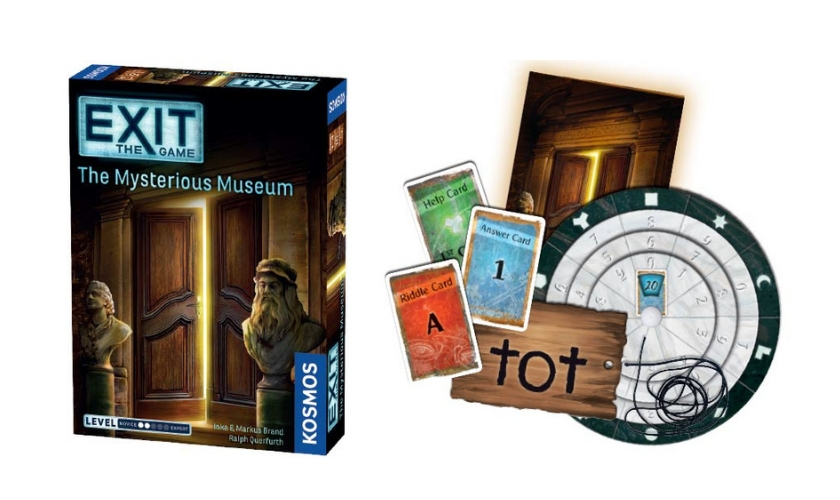 You are on a trip to the Florence Natural History Museum, intent on visiting the sunken treasure of the Santa Maria. Your relaxing day at the museum is quickly derailed by an incredible adventure! Can you solve the mysteries of the museum and find a way out?
Difficulty Level: 2 of 5.

Age: 10+

Number of Players: 1 to 4

Length of play: 60 to 120 minutes
The House of Riddles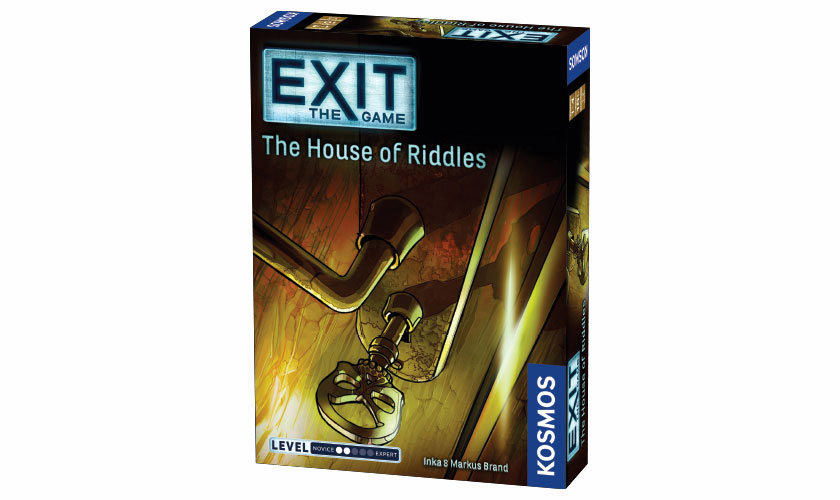 You and your fellow detectives are summoned to an abandoned house. Never wanting to turn down an unsolved mystery, you arrive at the house. Suddenly, you hear screams and see that the entrance has shut behind you. Will you be able to crack the case and find your way out of the house?
Age: 10+

Number of Players: 1 to 4

Length of play: 1 to 2 hours

Difficulty level: 2 of 5
The Haunted Roller Coaster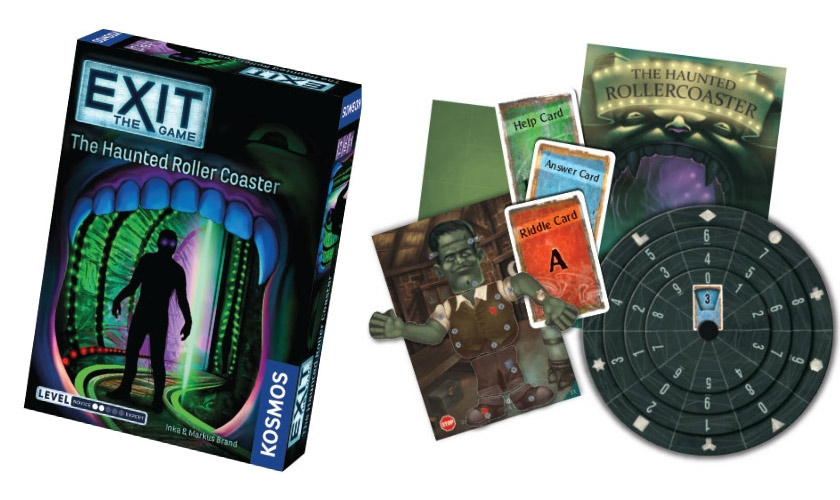 Dark corridors, terrifying shrieks, bone-chilling monsters — sounds like a lot of fun, right? At least that's what you thought when you decided to take a ride on the haunted roller coaster at the amusement park.
But suddenly you are stuck in a really freaky place. The ride's gates are locked tight in front of and behind you. You stumble upon a strange riddle. Can you summon up all your courage to solve the riddles and escape the haunted roller coaster?
Age: 10+

Number of Players: 1 to 4

Length of play: 60 to 120 minutes

Difficulty Level: 2 of 5
The Forgotten Island
The sea is calm. The sun is shining. You're on the perfect sailing excursion. But then you spot something on the horizon. Dark clouds are rolling in unusually fast. Soon the sun has disappeared and darkness has surrounded you. Everything is absolutely still … until suddenly, out of nowhere, a mighty gust of wind capsizes your boat. You are knocked unconscious.
When you wake up, you are on a black sand beach. There's no sign of your boat, not even wreckage. You look around and find an old book and a mysterious golden compass disk.
A boat is chained to a palm tree. Everything on this island seems to be secured with locks and you soon come to realize: You must figure out all the combinations to open the locks in to order to escape. If not, you will never leave this island! Can you solve the riddles left for you and escape the island?
Age: 12+

Number of players: 1 to 4

Length of play: 1 to 2 hours
The Forbidden Castle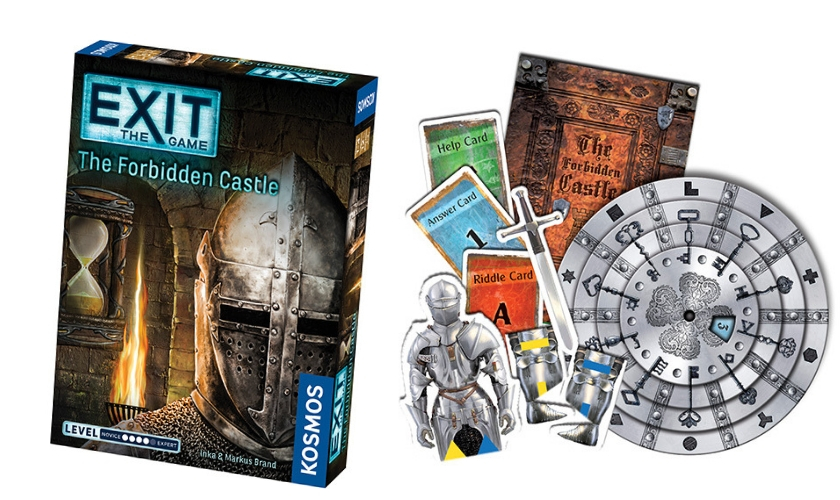 Finally, a vacation! This year, you're going to an idyllic village in the mountains. Instead of driving, you decide to take the train this time. After a three hour delay, you arrive in your vacation rental, where you find various brochures for local events and attractions — including an impressive castle. The flyer looks quite amateur and self-printed, but you're a sucker for medieval castles!
The next day, you get up and go to the castle. There's no ticket booth. No one else appears to be around. Well, at least you can explore the place in peace! You enter the castle and find yourself in a magnificent throne room. Suddenly the big, wooden door locks behind you and you realize that maybe (again) this was not such a good idea. The castle is full of mysteries. Only if you can solve all of the puzzles together in time will you escape. If not, your creepy host will probably never let you leave again.
Age: 12+

Number of players: 1 to 4

Length of play: 1 to 2 hours
The Catacombs of Horror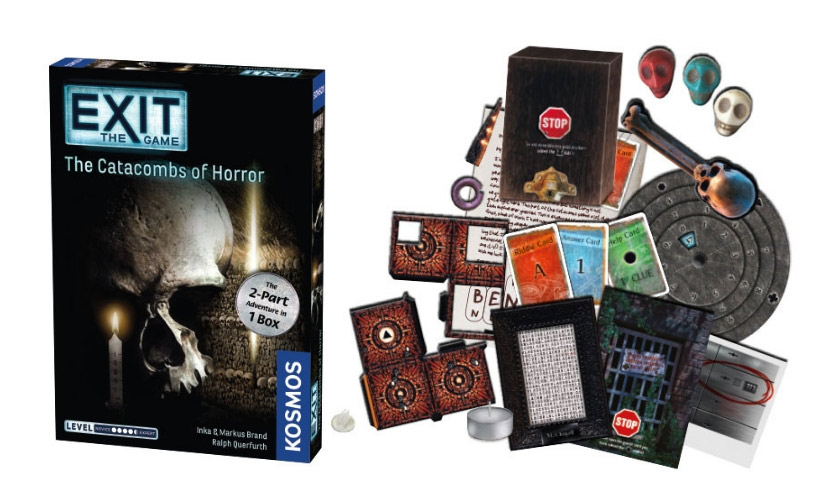 Gloomy crypts lie under the city of Paris. The catacombs swallow city light, riddles, and, apparently, also people. After the mysterious disappearance of a friend in the catacombs, you and your team embark on a search party, making your way through the puzzling underground labyrinth. Will you be able to find your friend in time and escape this cavernous world of darkness?
Difficulty: 4.5 of 5

Age: 16+

Number of players: 2 to 4

Length of play: 2 to 4 hours
The Abandoned Cabin
After your car breaks down, you are looking for shelter for the night. Luckily, you find an abandoned cabin in the woods near the road. But the next morning, the door is locked! Iron bars on the windows prevent you from escaping. You discover a book and a strange disk. Can you solve the riddles left for you by the deranged cabin owner and escape the cabin?
Difficulty Level: 2.5 of 5

Age: 12+

Number of players: 1 to 4

Length of play: 1 to 2 hours